V600 - VOCs and Chemicals- Good for Wildfires Air Purifier
Regular price
$849.98 USD
Regular price
$849.98 USD
Sale price
$849.98 USD
Unit price
per
Sale
Sold out
1-3 DAYS DELIVERY TIME. FOR QUICKER DELIVERY, OUR NEW AND IMPROVED 700 SERIES IS NOW AVAILABLE. CLICK HERE TO SEE THE 700 SERIES.
CALL US TO INQUIRE ABOUT VOLUME DISCOUNTS 1-866-505-7872
CALL FOR A FREE EXPERT CONSULTATION WITH AN INDOOR AIR QUALITY SPECIALIST. 
ENHANCED SPECIAL BLEND CARBON ADSORBS VOCS AND SPECIFIC CHEMICALS TOGETHER WITH TRUE HEPA FOR PARTICLES
A comprehensive air purifier that removes thousands of harmful airborne chemicals and VOCs found in common household items and outdoor pollutants leaving only clean indoor air.

Removes: Pet dander/odors, thousands of harmful chemicals released from common household products such as: PVC, vinyl, carpets, paint, heating fuels, ammonia, etc. as well as pesticides. Specially blended carbon blends available to address specific chemicals.
Ideal for:
Home use, office, hospitals, dental offices and other medical environments.

Workplaces/Industries that release chemicals from their manufacturing processes.

Families who want clean and healthy air at home.

Places with poor outdoor air quality.

Locations in proximity to agricultural industries.
Wildfire smoke.
Why this Air Purifier is considered #1:
18-lb enhanced carbon filter adsorbs most common VOC's and harmful, airborne chemicals and pollutants.

The powerful HEPA filter captures 99.97% of airborne particles, as small as 0.3 microns.
360° air distribution allows for purification for up to 2000 sq. ft with 2 air exchanges an hour (based on 8-foot ceilings).
Sleek machine design that will blend in with all decors.
Easy care and maintenance
Technical Specs
Performance
System Efficiency
99.97% of airborne particles ≥ 0.3 microns
Fan Speed
560 CFM (Free Flow)
Air Exchange per Hour
2
Filter Configuration
Prefilter
Poly Prefilter 2PK
Vacuumable
Replace: 12 months
Chemical gas & odor filter
2" Carbon Filter
18 lbs Activated & Enhanced Carbon Filter (Potassium Iodide,  Coconut Shell)
Replace: 24 months
Upgrade Option: Upgrade your filter if you needs change or for something heavier duty.
18-lbs, Impregnated Carbon Filter. The potassium permanganate accelerates the binding of lightweight gases 
 potassium permanganate carbon,  coconut shell carbon


Main Particle Filter
True HEPA filter (40 sq. ft)
99.97% of airborne particles ≥ 0.3 microns
Replace: 3-5 years

Upgrade Option

Super HEPA 14 Filter (99.99% of airborne particles ≥ 0.3 microns)
ULPA Filter (99.9999% of airborne particles ≥ 0.1 microns)
General Specifications
Dimension
23" High, 15" Wide
Colors
Black, White, Beige
Housing Materials
Powder coat steel
Fan Speed
Variable
Casters
Yes
Voltage
115 or 220 volts
Share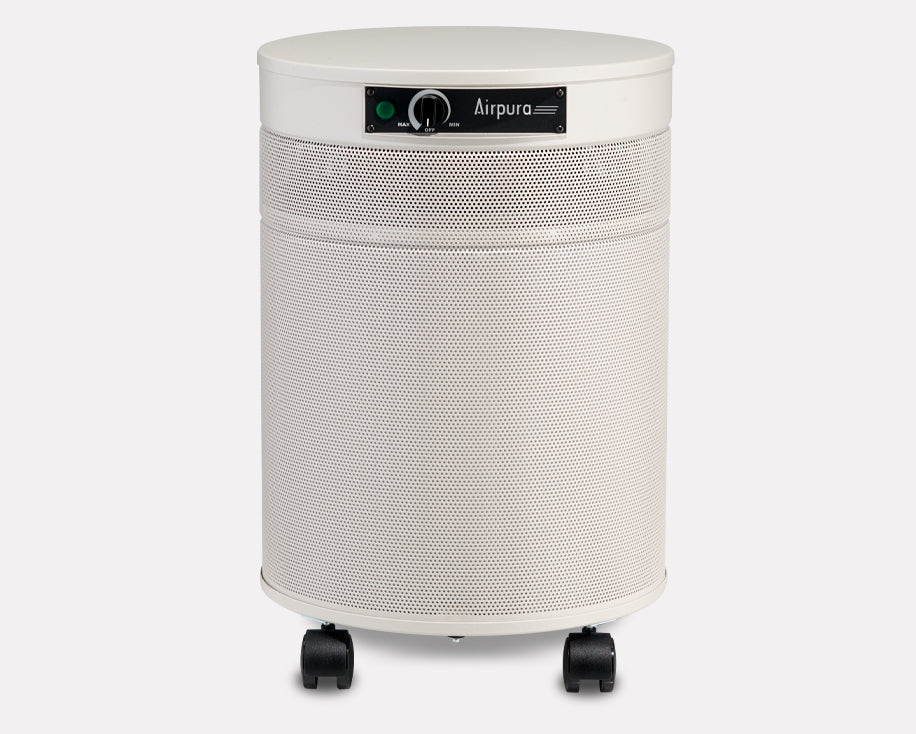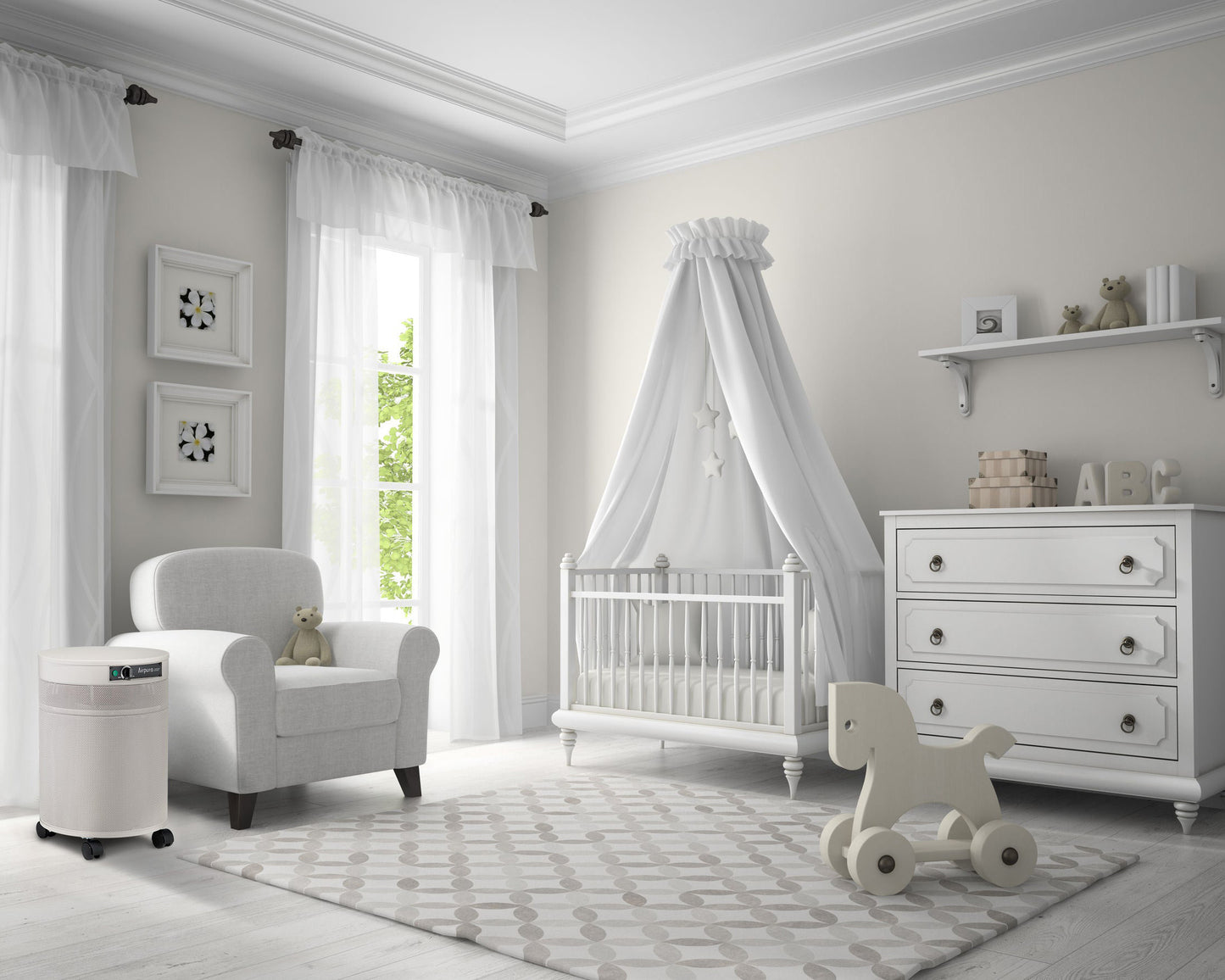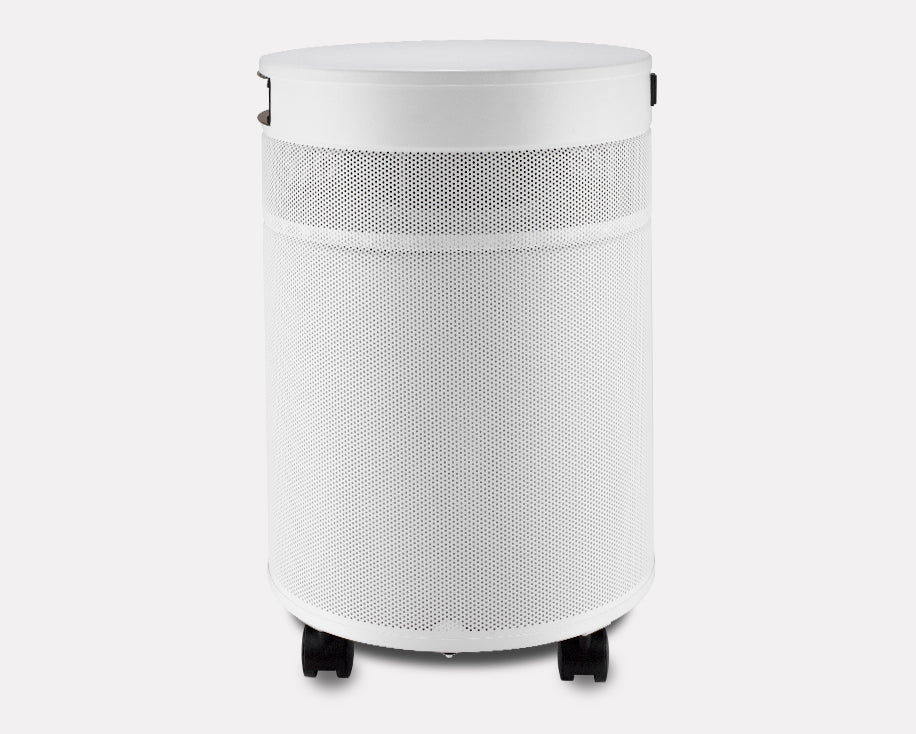 Great for new builds
After moving into our new build home, I was struggling with the chemicals off gassing from all the new materials. This air filter worked great to clean the air in our home and I noticed I wasn't feeling sick from the chemicals anymore. I use it now also when air quality is bad from the wildfire smoke.
Excellent large-area filter
One year our "chemically-sensitive" daughter's classroom at school had problematic air quality. We negotiated with the school, asking if we could provide an air filter for that classroom, and the principal and the teacher agreed. This is the filter we bought. It was placed in a corner of the room, running quietly, and solved the air quality problem. In fact, the teacher told us she appreciated the clean air. Later on, we used the filter in a small, mildly moldy rental house we stayed in for several months. This filter cleared the moldy smell and kept the mold gas and spores from becoming a health problem. Now we have the filter in our livingroom at home. Our four-bedroom (1800 sq. ft.) house is about sixty years old and has a less-than-pleasant "old house smell." We run the filter at a high speed overnight and turn it down to a quiet low setting during the day. It reduces the "old house smell" to a hardly-noticeable minimum. We also have four dogs and the filter prevents the house from smelling "doggy." We're very pleased with this filter's performance, especially its ability to clean the air in a very large area! We 're very glad we bought it and feel it was a great investment.
A nice air purifier!
We've been using the V600 since mid-2020, and so far we're quite happy with it's performance. I'm sensitive to odors and off-gassing smells, and I believe this machine really makes a difference. While not very quiet, I don't find the sound it make to be disturbing at all. In fact, I find it pleasant to fall asleep to. All-in-all, a good system for your home or office.